Corporate Events
Stokely Event Center serves as a versatile hub for businesses to hold an array of events, from business meetings and holiday parties to dynamic conferences and networking ventures.
Our corporate day rates are crafted to accommodate businesses doing business. But it's not all about work—it's about finding the perfect blend of productivity and enjoyment. We stand by the motto of "work a little, play a little," offering an atmosphere that encourages the achievement of goals while also inviting businesses to have fun.
Equipped with the following amenities, we're ready to elevate your corporate experience:
Podium & U.S. flag
Microphone with sound system and Wi-Fi
Projector with drop-down screen
Flexible conference and banquet seating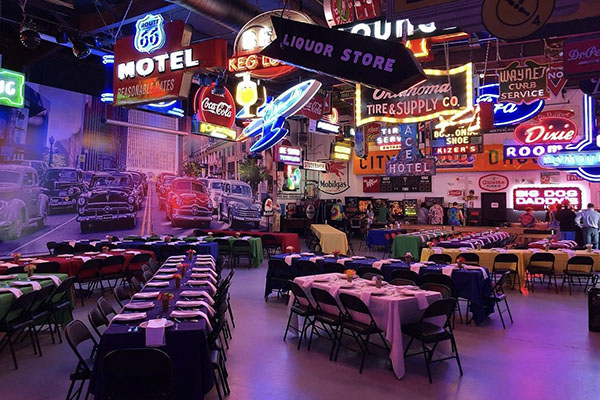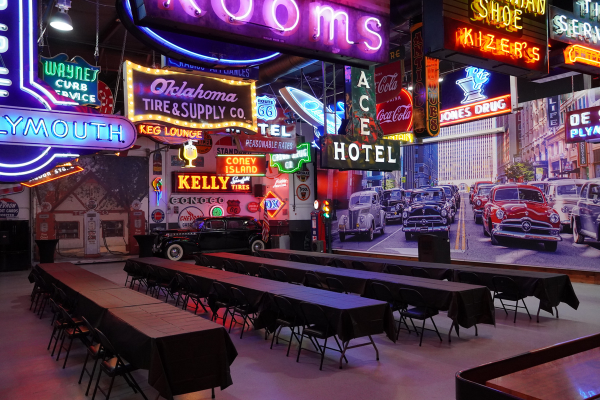 Offsite Work Meetings
Elevate team morale and show your employees they're valued by hosting offsite work meetings at Stokely Event Center. Our center provides ample tables and chairs, as well as breakout rooms, all complemented by seamless Wi-Fi connectivity. Rediscover the power of innovative thinking and productive collaboration in our dynamic setting.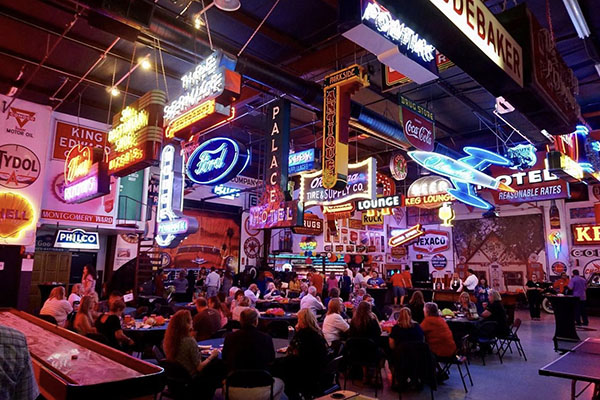 Holiday Parties
Our vintage neon signs, lively billboards, and games make any holiday party instantly decorated and filled with fun. The atmosphere at Stokely Event Center radiates warmth and laid-back holiday charm, creating a welcoming environment that encourages guests to relax and party!
Conferences
Elevate your conference experience with Stokely Event Center. The venue offers a classic and professional atmosphere that's perfect for bringing groups together. Our advanced audio/visual system is tailored for presentations, and we are here to help ensure the space is set up for your conference's maximum impact and effectiveness.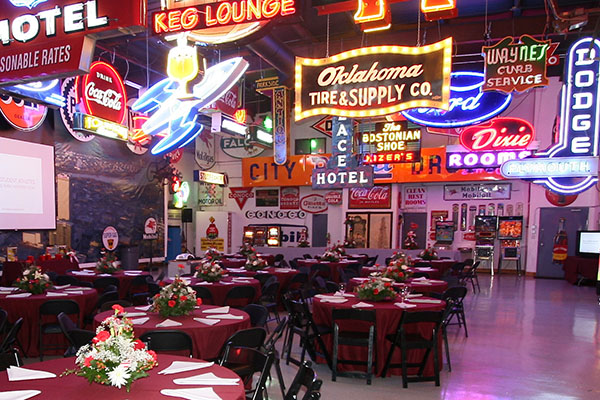 Award Ceremonies
Celebrate your achievements in style. Stokely Event Center is great for hosting a variety of award ceremonies. From sports banquets to commemorating employee or business milestones, our venue's nostalgic ambiance echoes the spirit of celebration. Attendees can take advantage of a photobooth that offers custom backgrounds with logos, business settings, schools and homes, and more.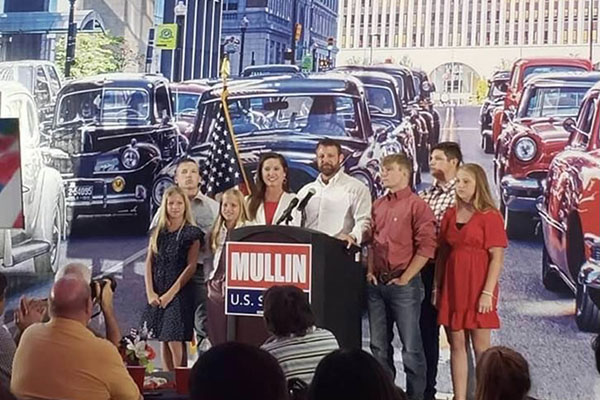 Political/Charity Events
Political and nonprofit events are a huge hit at Stokely Event Center! From dynamic watch parties to serving as the launchpad for diverse political campaigns, our venue brings the energy and enthusiasm needed for your cause to thrive, whether your event is to raise awareness or to raise funds.